Overview
Network Generation
We have developed a method for automated generation of complex reaction mechanisms that allow kinetic models with great detail to be built. For our generation, molecules are represented as molecular graphs or matrices, and manipulations of these matrices allow reactions to be carried out, molecule uniqueness to be determined, and chemical/thermodynamic properties to be calculated. Reaction chemistry is organized into reaction families and a mathematical matrix operator is specified for each family. If a reaction is found to be possible, the program executes the mathematical transformation via matrix addition and the new connectivity for the products is determined. Unique matrix products are appended to the unreacted species list that is searched until all combinations of species and reaction families have been examined. The automatically generated network can then be integrated with our other in-lab codes that automatically solve the network, such as applying reactor design equations and integrating in a microkinetic model. We have applied our methodology to a wide range of different problems, including production of silicon nanoparticles, biochemical transformations, polymerization and depolymerization, and tropospheric ozone formation.
Property Estimation
Reaction coefficients are calculated a variety of ways, often tailored for each reaction situation. Most reactions are described through the Arrhenius relationship, but both the network generation and microkinetic modeling tools are flexible to different representations. Pre-exponential factors and activation energies can likewise be calculated through various ways, including Bell-Evans-Polanyi, transition state theory, statistical thermodynamics, or density functional theory. These calculated values can be used in the microkinetic model to determine rates throughout the reactor.
Microkinetic Modeling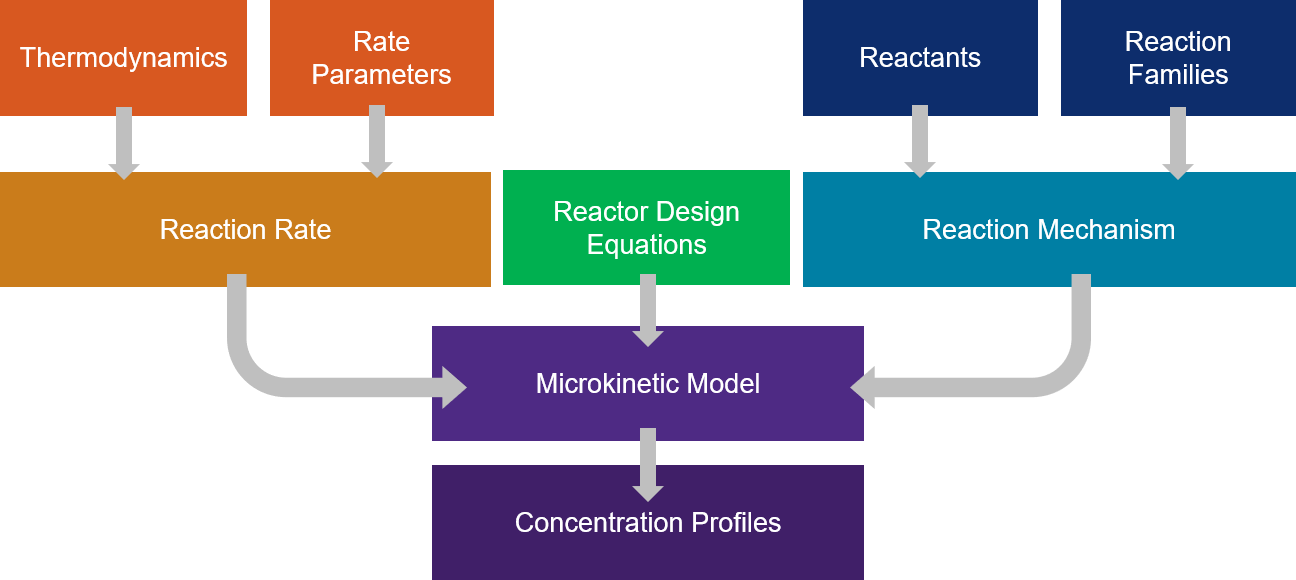 Microkinetic modeling is a powerful approach for studying complex catalytic systems. In a microkinetic analysis, all elementary steps comprising the reaction mechanism are considered explicitly, and no assumptions about rate-determining steps are made. For our microkinetic models, we combine our methodology for computer generations of reaction mechanisms as well as our calculations for kinetic parameters. Reaction chemistry is organized into reaction families and a mathematical matrix operator is specified for each family. The reaction mechanism is created automatically by applying the operators to all the different reactants and their products. Structure / reactivity relationships, one for each reaction family, are used to specify the rate coefficients. Rate coefficients are calculated through quantum chemistry, statistical mechanics, or density functional theory to name a few. Reactor design equations are setup with the reaction mechanism and rate coefficients, and the systems of equations are solved to determine concentration profiles and reaction rates of all species throughout the reactor. The results of microkinetic modeling can tell us important properties of a system, such as the most predominant species exiting the reactor and on the surface of the catalyst, overall turn-over frequency as a measure of catalytic activity, and selectivity of reaction system towards a desired product. Additionally, we can probe the sensitivity of the model to individual model parameters, such as rate constants, equilibrium coefficients, or binding energies.